A chance to cast the characters from my novel-turned-blockbuster-movie? How could I resist?
If you want to do the same, run over to
Kore Averna
and sign up!
Even though I'm not published (or even agented), I've given a lot of thought to this (yes, even prior to the blogfest). My novel is based on a freaky dream I had, and the face of the first character we meet in the novel is still as fresh in my mind as the morning I woke up from it. That face looked uncannily like:
Actress: Eva Longoria.
Granted, my character is younger than Eva, so I'd need a time machine if she were actually going to play the role, but hers is the face I've pictured ever since I had that dream.
Character Name:
Rebecca Gaines
Description:
Becca is fun, plucky, and not afraid to say what's on her mind. She's also very fashionable, has a flair for dramatics, and is just a wee bit self absorbed. Oh yeah, and recently deceased. She can't move on to the afterlife until she completes a mission involving my next female mc....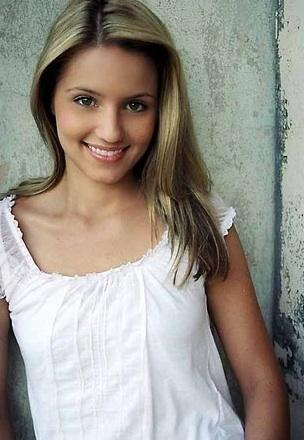 Character Name:
Alexis Beckman
Description:
Alexis is skeptical, cynical, and in total disbelief that a dead girl is on call as her personal cupid. She has no interest in helping Rebecca find her "true love", because she doesn't believe he exists.
And the role goes to: Dianna Agron.
Now, bear in mind Diana doesn't look much like the Alexis I see in my head. In-my-head-Alexis has blonder hair, blue-green eyes, and a handful of freckles across her nose. But I love Dianna, and I think her acting style is perfect. Not to mention she's gorgeous, in that naturally pretty way that fits my character. So she's my pick for Alexis.
And now the contenders for her heart....
Character Name:
Jeremy Manning
Description:
Jeremy is a hottie because, well, it's my book and I say so. He has blondish hair, hazel eyes, a dimpled smile and a rockin' bod, thanks to his dedication to wrestling and fitness training.
And the role goes to: Kellan Lutz
. Again, not the exact image of the face I see in my head, but the body... Mmmm. I'm sorry, was I saying something? Oh right. On to the next character...
Character Name
: Michael Clark
Description
: Total dreamboat. I adore Michael, and yes, I can say that even though he's a product of my overactive imagination. Blue-eyed,dark-haired, sweet, hard working, absolutely gorgeous, and oh - he has a secret, too...
And the role goes to
: Steven McQueen. Though I'd also consider Tom Welling or Zack Efron. Something about Steven's face just makes me think of my character. And look at him. I'd accept his pink flower even if I didn't like pink. Or flowers. It certainly doesn't suck to be Alexis Beckman, does it?
Last but not least, I want to cast Alexis's best friend, Jamie. Jamie's role in the novel isn't huge, but I loved her so much that I've outlined another just for her. Jamie is a hard working, loyal friend who's had her share of bad luck. She gets her happy ending... but how long will it last? Unfortunately, when I tried to post a photo of my pick (Victoria Justice), I wound up with a virus on my computer. So if you'd like to look her up for yourself, I encourage it. Just don't click on anything!